Visiting places in UAE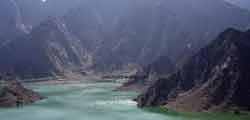 Just 100 kilometers from Dubai sits the oasis, Hatta wadi. On the road to Hatta, there is incredible scenery: majestic dunes of red sand and the exceptionally stark landscape of the Hajar Mountains. There is also a famous Portuguese fort from the 16th century along the way. Next, there is a stop at Heritage Village featuring traditional houses depicting typical village life in the mountains.
But the real adventure begins when the tour takes you on the trails of the wadis, the dried riverbed in the Hajar mountains, to reach fresh water pools, where you can take a dip in the blue waters of the pools and enjoy refreshment. The tour then stops at the famous 5-star Hatta Fort Hotel for lunch, and then returns to Dubai via a break at the traditional street market where locally manufactured pottery and carpets are sold.
Emirate: Dubai
Back