Events in UAE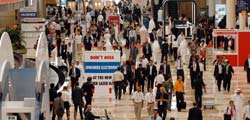 Event Schedule: During November
Launched in 1981, GITEX is the ICT business gateway to the Middle East, North Africa and South Asia Region.
Focused on providing exhibitors with high ROI through direct business opportunities with decision makers, GITEX has maintained its position as the industry's trend setting authority.
GITEX continually identifies the hottest global IT trends and incubates these into the event either as new sectors or conference programmes. The sectorisation of GITEX has enabled new companies to participate in identified trends as well as giving visitors the opportunity to engage, learn and implement the advances in the industry.
Venue: Dubai World Trade Centre
Website: http://www.gitex.com/
Emirate: Dubai
Back