Events in UAE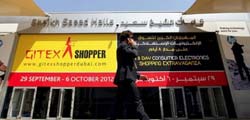 Event Schedule: During November
The region's biggest ever retail consumer electronics extravaganza is now closed.
Regional power retailers including Al Falak, E-City, Emax, Geekay, Harman House, iStyle, Jacky's Electronics, Jumbo Electronics, MK Trading, 050Telecom, One Mobile, Plug-Ins, Sharaf DG, Tarsam and Tec Buy, as well as top world brands such as Samsung, Acer, Bose, Blackberry, Dell, Intel, HP, Nestle, Bose, Nokia, LG, Toshiba, Seagate and Western Digital were all at the show.
GITEX Shopper will be back in April 2014 and from 27 September to 4 October 2014.
Venue: World Trade Center Dubai
Website: http://www.gitexshopperdubai.com/
Emirate: Dubai
Back